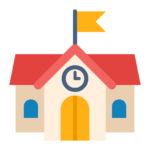 Schools and Childcare Centers
Are you looking for an enrichment program for your school?
Kinderdance® was born out of the desire to involve as many young children as possible in a developmental movement program in a way that is convenient and affordable for families and enriching for schools.
We partner with you! We will fit into your schedule and space, reinforce what your children are learning with you, and do whatever we can to ensure a great experience for you and your families.
How Kinderdance Works
A trained Kinderdance instructor will come to you to teach weekly classes. The teacher will bring any needed equipment, will set up in her assigned area and clean up when through.
We work hard to make sure you and your families are continually informed. We communicate through newsletters, monthly skills updates, regular notes to parents, and semester progress reports.